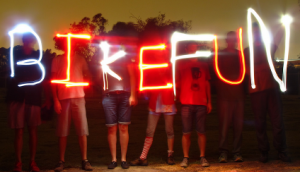 Start: Tuesday, September 9, 2014 7:30 pm
Finish: 11:00 pm
Meet at: Mordialloc Railway Station
Warning - you are viewing a past event
Each month, Bike Fun Melbourne sets out to explore one of Melbourne's bike paths and enjoy some bikey camaraderie under the light of the full moon.
Catch the train out to Mordialloc Station then we'll ride back to the city along the Bay Trail stopping along the way for a picnic.
Note: Come prepared with snacks, drinks and good conversation to share.
The pace is social, and the distance is managable at 32km with opt-out points for anyone who needs to be home early. Bike lights will be required.
Take the 6:46 Flinders St Frankston train (platform 8, we'll be in the last carriage) or meet at Mordialloc Station.
SMS 0417145375 on the day if you are lost or late…

Add to your calendar
Want people to put this event in their calendar?
Click here
for embed code for your website.
If you listed this event, we sent you an email with a link that allows you to update it.
If you want to edit this event but you don't have that email handy,
click here
for a replacement email.
1033