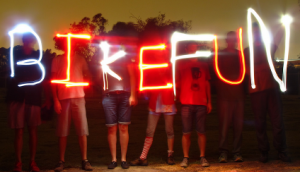 Start: Friday, March 6, 2015 7:45 pm
Finish: 11:30 pm
Meet at: Croydon Railway Station
Warning - you are viewing a past event
Full Moon Ride – On the Full Mullum Mullum (almost…)
Join us to explore a new trail from Croydon following the Mullum Mullum creek to the Main Yarra Trail and then up the Diamond Ck Trail to Eltham. Ride is estimated to be 28km on good trails that should suit all but crabon frame racers.
Catch the 6:49 Lilydale train from Flinders Street or meet us 7:45 at Croydon.
Ride ends at Eltham Station in time to catch the last train to the city at 11:39pm.
Bring drinks, nibbles and good conversation to share. Note there will be no opportunity to shop on the way so come prepared.
Contact 0417145375 on the day if you're running late…
If you're doing the Sydney Rd ride but also wanted to be on the Full Moon Ride, you can still catch up with us at these crossover points on the Mullum Mullum Trail.
8:15pm Ringwood St 3 min from Ringwood Station https://goo.gl/maps/Scixe
8:20pm Deep Creek Rd 9 min from Heatherdale Station https://goo.gl/maps/3DmTZ
8:30pm Beckett Rd 9 min from Mitcham Station https://goo.gl/maps/IRgDJ
8:40pm Park Rd 12 min from Mitcham Station https://goo.gl/maps/LqJEc
Catching the 7:02 from Jewell and changing to the 7:21pm Lilydale train at Southern Cross will get you there with time to spare.

Add to your calendar
Want people to put this event in their calendar?
Click here
for embed code for your website.
If you listed this event, we sent you an email with a link that allows you to update it.
If you want to edit this event but you don't have that email handy,
click here
for a replacement email.
2115