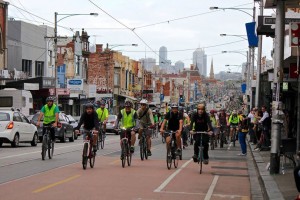 Start: Friday, February 26, 2016 5:30 pm
Finish: 7:00 pm
Meet at: Walker Oval, Macarthur Rd, Parkville VIC 3052
Warning - you are viewing a past event
#AlbisRide is a memorial ride for all those bike riders lost on our roads through careless actions of motorists. In the name of Alberto Paulon but in memory of so many more. This ride is a 3 kilometre trek down Sydney Rd finishing at Bell St where you can disperse and go home.
With more than 3000 riders on the road, all on their different modes of transport, it is a show of solidarity. We invite office groups and racing teams in their colours or uniforms, we invite those on cargo bikes, bike share, the weekend rattler and the high end racer. This is a ride for everyone.
In #AlbisRide16 we want to see 8000 riders on Sydney road.
This event is supported and assisted by the following group(s):
Cycle.org.au
Revitalise Sydney Road,
Humans on Bikes.
Moreland Bicycle Users Group
Freestyle Cyclists (meeting at Royal Park railway station at 5:15pm)

Add to your calendar
Want people to put this event in their calendar?
Click here
for embed code for your website.
If you listed this event, we sent you an email with a link that allows you to update it.
If you want to edit this event but you don't have that email handy,
click here
for a replacement email.
2462