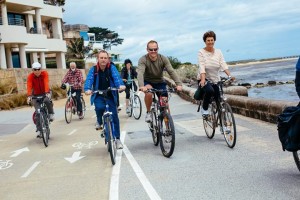 Start: Sunday, February 17, 2019 11:00 am
Finish: 3:00 pm
Meet at: Williamstown Beach Railway Station
Warning - you are viewing a past event
We will head to The Kiosk d'Asporto for a coffee/brunch and to have a look at the t shirts.
We can then ride on to Altona for a picnic lunch. The afternoon could be an optional ride to Point Cook. This will depend on weather. People can return by train from Aircraft station, or  Altona or Williamstown station.
Samples of Freestyle Cyclists t-shirts will be viewed, and we will discuss the annual helmet law protest ride which is scheduled for 16th March.

Add to your calendar
Want people to put this event in their calendar?
Click here
for embed code for your website.
If you listed this event, we sent you an email with a link that allows you to update it.
If you want to edit this event but you don't have that email handy,
click here
for a replacement email.
3565