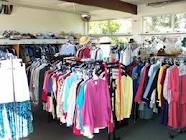 Start: Saturday, March 30, 2019 9:30 am
Finish: 2:00 pm
Meet at: Brotherhood of St Lawrence, Brunswick Road
Warning - you are viewing a past event
A good op shop rummage can bring joy.
Let's spend a Saturday riding about looking for good second hand stuff. You might find a bargain, or you can play 'treasure hunt' (I've prepared a list of kitsch junk you can have fun trying to find.)
We'll start at the Brotherhood of St Lawrence on Brunswick Road around 9:30am , then make our way north -ish, have lunch at Al-Alamy in Coburg https://www.broadsheet.com.au/melbourne/shops/al-alamy
Over a Zatar and coffee we'll make plans for the afternoon, either continue op-shopping in the wilds of Fawkner and Glenroy or head east to Preston and Thornbury, to finish at a pub for a beer and to show off purchases. I'm basing the route on a map I prepared a while ago of the op shops of Brunswick Coburg – https://www.google.com/maps/@-37.7336116,144.9113305,12.77z/data=!4m2!6m1!1s1izvfB8amzH1vOKPg24WmCLPIcG4 but op shops move and change opening hours so it's more likely to be creative chaos navigation. That said I'll try to avoid main roads where I can.

Add to your calendar
Want people to put this event in their calendar?
Click here
for embed code for your website.
If you listed this event, we sent you an email with a link that allows you to update it.
If you want to edit this event but you don't have that email handy,
click here
for a replacement email.
3737