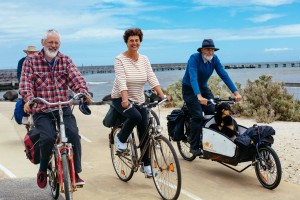 Start: Saturday, March 19, 2022 10:30 am
Finish: 12:00 pm
Meet at: 815 Nicholson St. Nth. Carlton, outside Park Dining on the Capital City Trail
Warning - you are viewing a past event
Freestyle Cyclists are holding their annual 'Stop Fining Healthy Transport' helmet optional ride in Melbourne in support of helmet law reform on Saturday 19th March.
Helmet laws continue to be a barrier to safe everyday cycling. It is now over thirty years since Australia went it alone on this one, and remains to this day the only place in the world where adults are regularly fined (and fined large sums) for practicing this socially, environmentally and personally healthy form of transport. King County in the USA (which includes Seattle, twin birthplace with Melbourne of mandatory helmet law zealotry) repealed their long standing helmet law just this year, so it is possible. We want to see an end to this stupidity in Australia.
Last year, we focussed less on protest, and more on growing our community. We are continuing in this vein this year, and are again asking people to bring a friend in support of this aim. I'd like to stress that this is a relaxed, friendly gently paced ride.
We will follow a similar route as previous years, keeping almost entirely to off road paths.  We will end at Abbotsford Convent around 12 noon where everyone is welcome to join in a BYO picnic. Food can also be purchased at the convent.
Please put the date in your calendar if you are able to participate.
You can contact me directly by email at alan_todd@westnet.com.au if you have any questions or need more information.
Alan Todd
Vice President
Freestyle Cyclists Inc.

Add to your calendar
Want people to put this event in their calendar?
Click here
for embed code for your website.
If you listed this event, we sent you an email with a link that allows you to update it.
If you want to edit this event but you don't have that email handy,
click here
for a replacement email.
6524