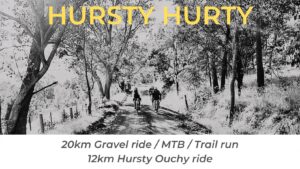 Start: Saturday, June 18, 2022 12:00 am
Finish: Sunday, June 19, 2022 12:00 am
Meet at: Hurstbridge Primary School
Warning - you are viewing a past event
The Hursty Hurty is a self-guided 20k Gravel Ride & Trail Run through the back roads of Hurstbridge and Panton Hill. Complete it anytime on 18/19 June weekend with no drop group rides at 9am Saturday and 2pm Sunday.
12km Hursty Ouchy will also be on offer for those wanting a shorter challenge.

Add to your calendar
Want people to put this event in their calendar?
Click here
for embed code for your website.
If you listed this event, we sent you an email with a link that allows you to update it.
If you want to edit this event but you don't have that email handy,
click here
for a replacement email.
6552