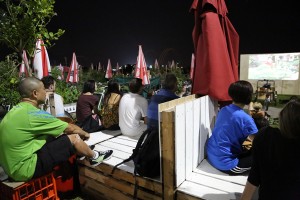 Start: Friday, September 25, 2015 7:30 pm
Finish: 9:00 pm
Meet at: Argyle Square, Carlton, 3053 (Off Lygon Street)
Warning - you are viewing a past event
Projector Bike leaves Argyle Square and takes a ride through this unique Italianate suburb exploring its bike paths and blank walls!
Showing award-winning short films with a fresh playlist every week, join us as we meander through Carlton on a unique once off magical mystery tour. This month's playlist is full of cycling themed shorts and snappy wacky animations.
Bring your bike and meet at Argyle Square or catch up with us via Twitter updates. Projector Bike will be situated in the middle of the square playing music.
Testing Grounds is now closed for the winter so this is part of our winter Friday rides project 'Projector Bike in Your Burb'.
This is a free event for all-ages.

Add to your calendar
Want people to put this event in their calendar?
Click here
for embed code for your website.
If you listed this event, we sent you an email with a link that allows you to update it.
If you want to edit this event but you don't have that email handy,
click here
for a replacement email.
2364