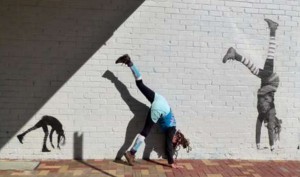 Start: Saturday, November 28, 2015 12:00 pm
Finish: 2:30 pm
Meet at: Wheelie Workshop, Fawkner Festa, CB Smith Reserve, Fawkner
Warning - you are viewing a past event
Each year the City of Moreland invites artists to transform public spaces alongside and around the Upfield Bike Path and train line for the MoreArt Public Art Show. And one of the best ways to discover these works is of course, by bicycle! Grab the kids and their bikes and join us for this family friendly art discovery tour.
The theme of this year's show is participation and many of the artworks we'll be discovering have an interactive element which both you and the kids will enjoy. We'll do handstands, make a pledge to help see the Dreamboat on it's way, execute our unwanted things at a guillotine and explore the bike paths and back-streets of Moreland all while having fun on our bikes!
The ride will start from the Wheelie Workshop at Fawkner Festa at CB Smith Reserve in Fawkner and finish at the Mechanic's Institute in Brunswick and is aprox 9kms.
There is an option to join us at Coburg Station if that will suit you and your kids better. After the ride you and the family can either ride back home or catch the train on the Upfield Line.
This  tour is appropriate for confident children and intermediate adults and will take place mainly on off road bike lanes (Upfield bike path) – some riding on on-road bike lanes and back streets required.

Add to your calendar
Want people to put this event in their calendar?
Click here
for embed code for your website.
If you listed this event, we sent you an email with a link that allows you to update it.
If you want to edit this event but you don't have that email handy,
click here
for a replacement email.
2400