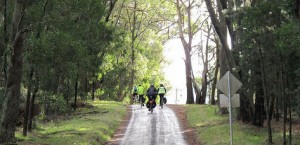 Start: Sunday, March 20, 2016 9:15 am
Finish: 4:00 pm
Meet at: Sunbury station
Warning - you are viewing a past event
Sunbury Macedon  Ride some back  roads  to Macedon via Riddells Creek, these are mainly gravel and dirt roads.

Meet : on Train or Sunbury station 9:11, no waiting we just Go

Trains: Depart  Southern Cross Platform 11 to  Sunbury 8:22am  arrives 9:11am

Distance : 62km
Bike : CX Gravel Grinder MTB old Road bike with road tyres
Suit: Anyone that can Ride 70km with some hills
Bring: Tools, patch kit ,pump ,food ,money, Myki ,suncream
Contact: bykfri@gmail.com
Cancellation : No trains running to start point, Heavy rain, thunderstorms, lightning no fun, at least 2 hours before event time please check your phone

Add to your calendar
Want people to put this event in their calendar?
Click here
for embed code for your website.
If you listed this event, we sent you an email with a link that allows you to update it.
If you want to edit this event but you don't have that email handy,
click here
for a replacement email.
2478