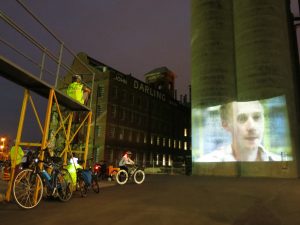 Start: Friday, July 29, 2016 7:00 pm
Finish: 9:00 pm
Meet at: Site WORKS, 33 SAXON STREET, BRUNWICK 3056
Warning - you are viewing a past event
Projector Bike has a new home at Site Works at Saxon Street in Brunswick! Come on down to meet your local cycling community, and join us on a Projector Bike group ride packed with award winning short films, adventure, and music as we roll!
Projector Bike leaves Site Works and takes a ride through Moreland searching for secret screening locations, and comfy surfaces to perch upon, whilst we gorge on fun and fresh short films!
Showing award-winning short films with a fresh playlist every week, join us as we meander through Moreland on a unique once off magical mystery tour.
Bring your bike and meet at  or catch up with us via Twitter updates. Projector Bike will be situated in the main grounds playing the wonderful sounds of local community radio stations PBS, 3CR, and RRR.
This is a free event for all-ages.

Add to your calendar
Want people to put this event in their calendar?
Click here
for embed code for your website.
If you listed this event, we sent you an email with a link that allows you to update it.
If you want to edit this event but you don't have that email handy,
click here
for a replacement email.
2601