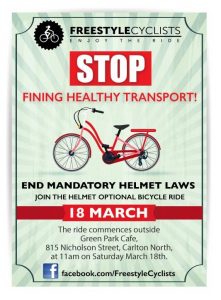 Start: Saturday, March 18, 2017 11:00 am
Finish: 12:00 pm
Meet at: Green Park Cafe, 815 Nicholson Street, Carlton North
Warning - you are viewing a past event
Freestyle Cyclists are holding a helmet optional protest ride – "Stop Fining Healthy Transport".
The route was specifically chosen:
To be away from cars and other motorised traffic
To not cause interference with other road users
To be safe, relaxed and enjoyable
Demonstrate various safe bicycle infrastructure design
We have liaised with the police, and registered the ride with them.  At this stage they have not expressed an interest in attending.  We do not anticipate any action being taken against those who choose not to wear a helmet but we can't guarantee that police patrols will not take an interest in us in the course of their normal duties.
We will be approaching various media organisations prior to the ride, and hope for both publicity and even some media presence on the day.  So please come along if you can, and feel free to bring along friends and family.  You can register your interest in coming on our Facebook events page at 
https://www.facebook.com/pg/FreestyleCyclists/events/?ref=page_internal

Add to your calendar
Want people to put this event in their calendar?
Click here
for embed code for your website.
If you listed this event, we sent you an email with a link that allows you to update it.
If you want to edit this event but you don't have that email handy,
click here
for a replacement email.
2643