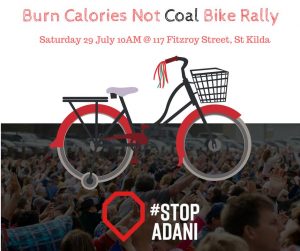 Start: Saturday, July 29, 2017 10:00 am
Finish: 11:00 am
Meet at: Corner of Fitzroy St and Grey St, St Kilda
Warning - you are viewing a past event
Come burn calories not coal, cycling through marginal seats in Melbourne to show our Ministers of Parliament we are are moving beyond coal! We are changing gears to keep fossil fuels in the ground. Let's break the cycle and transition to renewables
Join a colourful crowd of cyclists as we start at Michael Danby's office in St Kilda and pedal 15km to Bill Shorten's office in Moonee Ponds, making a song and dance about the future we want.
Pimp your ride, bring your beats and take this message to the streets:
MPs need to know if they don't #StopAdani, we'll elect someone who will!
Who
Who should join? Anyone who can get their hands on a bike and is comfortable riding on roads and bike paths.
Why
Right now the Federal Government are considering making a $1billion loan to build the Adani mega coal mine in Queensland. Adani has made an application for the loan through the Northern Australia Infrastructure Facility and the Government are due to make a decision within weeks. Now is a critical time to show our pedal powered people!
All that's standing between us and a clean energy future is a handful of big polluters who want to protect their profits. It's time for them to get out of the way, so the rest of us can get on with building a sun- and pedal-powered country!
Add to your calendar
Want people to put this event in their calendar?
Click here
for embed code for your website.
If you listed this event, we sent you an email with a link that allows you to update it.
If you want to edit this event but you don't have that email handy,
click here
for a replacement email.
2723