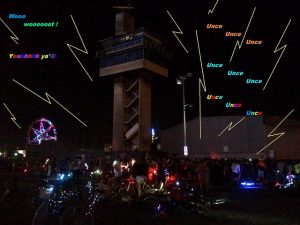 Start: Saturday, February 10, 2018 6:00 pm
Finish: 11:00 pm
Meet at: Birrurung Marr (check location)
Warning - you are viewing a past event
Holy Moly it's happening again!
Welcome to Bike Rave 2018! This extra special edition of Bike Rave is Pink Flamingo themed. If you've never been to a Bike Rave before, please read the notes over at facebook: https://www.facebook.com/events/1352803004848647/
Bike Rave is a free event – but we ask you to bring along a cash donation for charity Bicycles for Humanity. We will be collecting throughout the evening.
THE MUSIC:
We have curated a whopping 4.5 hour mix from some very talented producers for this Bike Rave. The mix is full of pumping party tunes to keep you dancing all night long. You should download this and put it onto an mp3 player.
The soundzzzz are here: https://soundcloud.com/bikeravemelb/bike-rave-2018.
Download and putem on your walkmanipodmp3player

Add to your calendar
Want people to put this event in their calendar?
Click here
for embed code for your website.
If you listed this event, we sent you an email with a link that allows you to update it.
If you want to edit this event but you don't have that email handy,
click here
for a replacement email.
2780