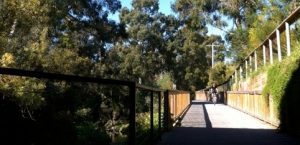 Start: Friday, April 13, 2018 7:23 pm
Finish: 11:00 pm
Meet at: Epping Railway Station
Warning - you are viewing a past event
Alex, founder of bikefun is in town so we are riding together down the Darebin trail and over the new bridge into Willsmere Park, from there back to Clifton Hill where trains run back to the City, or some people might ride back into town.
BTW the route from Willsmere Park to Clifton Hill runs over the Pipe Bridge in Yarra Bend Park then through the Park to cross Merri Creek near the confluence with the Yarra, so it's very scenic.
If you want to bring a tent, there is a nice spot for some guerilla camping on the way.  Dog friendly too.
Meet at Flinders Street Railway Station for the 6:34 train to South Morang, last carriage, get off at Epping.  If you run late phone Nik on 0412703483.

Add to your calendar
Want people to put this event in their calendar?
Click here
for embed code for your website.
If you listed this event, we sent you an email with a link that allows you to update it.
If you want to edit this event but you don't have that email handy,
click here
for a replacement email.
2800