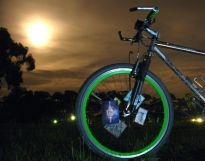 Start: Thursday, March 21, 2019 7:20 pm
Finish: 11:30 pm
Meet at: Eltham Railway Station
Warning - you are viewing a past event
March Full Moon Ride Diamond Creek Trail and Platypus Spotting at Finn Reserve.
This ride was previously scheduled but had to be cancelled due to illness.
Depart Flinders Street Station 6:23pm platform 1.
Arrive Eltham Station Wed 7:19pm
Ride From Eltham  Via Diamond Creek Trail
Arrive Finns Reserve at approx 7:30pm
Thia is the Platypus viewing spot and kid friendly Wombat Bend Playground.
http://platypusspot.org/view-sightings
https://www.playgroundfinder.com/playgrounds/274
This is an option for non-bike riding people to join us at a kid friendly play spot and nature area.
Sunset is at 8:13 pm (just before sunset is the best time to go Platypus spotting)
Depart Finn Reserve 9:00pm
Bring food to share.
Organiser: Simon

Add to your calendar
Want people to put this event in their calendar?
Click here
for embed code for your website.
If you listed this event, we sent you an email with a link that allows you to update it.
If you want to edit this event but you don't have that email handy,
click here
for a replacement email.
3524