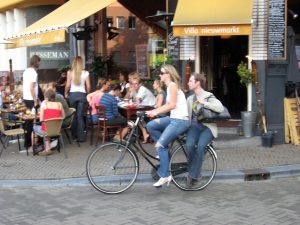 Start: Saturday, September 14, 2019 10:45 am
Finish: 1:45 pm
Meet at: Bon Cafe, 38 Hardware Lane, Melbourne
Warning - you are viewing a past event
Cafe Discussion/Brainstorm Topic: What can we do to increase everyday bike riding in Melbourne? You can come just for the Cafe Discussion if you like. The ride afterwards will be between 10 and 20km. Details TBA.
Please RSVP by Tues 10th.
Something to stir the imagination: How the Dutch got their cycle paths: https://youtu.be/XuBdf9jYj7o
We had a fantastic meetup on Sat 31st Aug. With guests there were seven of us. Relaxed coffee, cake and chat at Third Chapter cafe Eltham, ride to Diamond Creek, train to Heidelberg, ride to Fairfield boathouse and Devonshire tea! Participants rated the Meetup 4.5 stars 🙂

Add to your calendar
Want people to put this event in their calendar?
Click here
for embed code for your website.
If you listed this event, we sent you an email with a link that allows you to update it.
If you want to edit this event but you don't have that email handy,
click here
for a replacement email.
4239