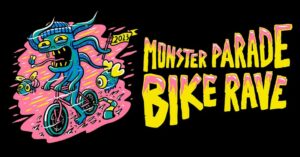 Start: Saturday, February 18, 2023 5:00 pm
Finish: 10:00 pm
Meet at: Birrarung Marr, Melbourne
We did the mash, we did the monster mash!
——————————
Welcome to Bike Rave 2023!
This edition of Bike Rave is a Monster Parade.
If you've never been to a Bike Rave before, please read over the following notes.
Bike Rave is a free event – but we ask you to bring along a cash donation for charity. We will be collecting throughout the evening.
——————————
RAVE RULES:
There are a few simple rules that we would like you to follow to ride the rave.
Protect Your Head
Stay to the Left
Stop at Lights
Ride Straight
Don't Hate
Pack Your Trash (no trace)
Don't Get Smashed
——————————
THE MUSIC:
We have curated a bone-crunching 4-hour mix from some talented DJ's for this Bike Rave. The mix is full of pumping party tunes to keep you dancing all night long. You should download this and put it onto an mp3 player. Don't rely on streaming – get a hard copy of the file.
Check back soon for the mix and DJ announcement.
——————————
SOUND:
Bike Rave is a DIY event. Grab an MP3 player and put the mix on it. Bring your own speakers, build a sound bike, be creative! Need sound for your bike? Get a basket and some computer speakers, or head to Jaycar, JB-HIFI, etc to set up a self-contained set. There are some great solutions from $15, and some pretty impressive creations. Just remember to charge those batteries.
——————————
DRESS UP:
What is a Monster Parade?
Break out your spookiest, wildest, and most creative monster costumes. Whether you choose to dress as a classic monster like a vampire or werewolf or come up with a unique creature of your own, we can't wait to see the fearsome displays of creativity as we descend on the bike path to hell.
——————————
THE ROUTE:
The route will be released soon but most likely follows previous years. About 12km total.
Check back soon for the route.
——————————
THE WEATHER:
If it's nice out, we ride. If it's cloudy, we ride. If it's raining a little, we ride. If it's pouring, we don't ride. If you aren't sure, show up anyways. Someone will be there from 5pm to let people know if the ride is canceled.
——————————
IMPORTANT!
We are not responsible for your safety; YOU ARE!
We have done our best to ensure that the route is well-lit and safe, but it does involve a little riding on the road and in the dark and past people. We should attempt to obey all traffic laws. If we get split up, we can rejoin at one of the several stopping points along the ride, so please stop at red lights and stop signs.
——————————
PHOTOS VIDEOS TWEETS – #BIKERAVEMELBOURNE
BikeRave was founded in Vancouver but is shared around the world. When an image is uploaded to Instagram with 
#bikeravemelbourne
 you will see it here!
https://www.instagram.com/explore/tags/bikeravemelbourne/

Add to your calendar
Want people to put this event in their calendar?
Click here
for embed code for your website.
If you listed this event, we sent you an email with a link that allows you to update it.
If you want to edit this event but you don't have that email handy,
click here
for a replacement email.
6625