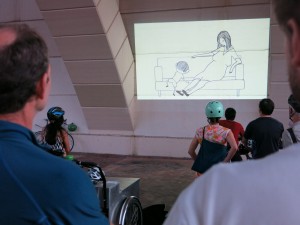 Start: Friday, December 19, 2014 8:30 pm
Finish: 12:00 am
Meet at: Testing Grounds
Warning - you are viewing a past event
Projector Bike is joining up with Back2Bikes to bring you THE BACK2BIKES BIG END OF YEAR BASH! Everyone and anyone is welcome to come along.
We will meet at Testing Grounds at 8.30pm and cycle towards Port Melbourne. We will stop to screen award winning short films along the way. Then back on our bikes to arrive at the Back2Bikes base for 9.30pm where we will be greeted with music and fun, before settling down to watch more fantastic new short films! The party will continue afterwards so feel free to join it or leave it whenever.
Bring your bike and meet at Testing Grounds, or catch up with us via Twitter updates.
Back2Bikes is a local not for profit. Their mission is to provide bike training services, and bike recycling for the local community.
This is a free event for all-ages.

Add to your calendar
Want people to put this event in their calendar?
Click here
for embed code for your website.
If you listed this event, we sent you an email with a link that allows you to update it.
If you want to edit this event but you don't have that email handy,
click here
for a replacement email.
2123