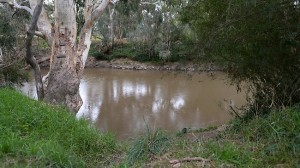 Start: Saturday, December 6, 2014 7:15 pm
Finish: Sunday, December 7, 2014 8:00 am
Meet at: Eltham Railway Station
Warning - you are viewing a past event
7:15PM — Eltham Railway Station
The ride from Eltham down Diamond Creek and along the Main Yarra Trail is one of the best in Melbourne, and especially beautiful by the light of a full moon.
It's one of our favourites, so come along and bring some food or drink to share at the midway picnic and join in a bit of urban camping within coo-ee of the city at an almost-secret location. byo tent etc.
Catch the 6:19pm Hurstbridge train from Flinders St Station (Platform 1, last carriage).
It's mainly off-road on a fairly good quality track. There are various points where railway stations can be reached for an early bail-out, including Fairfield, or ride all the way back into the City via Westgarth, Fitzroy and East Melbourne.
Organiser: Nik & Ned

Add to your calendar
Want people to put this event in their calendar?
Click here
for embed code for your website.
If you listed this event, we sent you an email with a link that allows you to update it.
If you want to edit this event but you don't have that email handy,
click here
for a replacement email.
1046