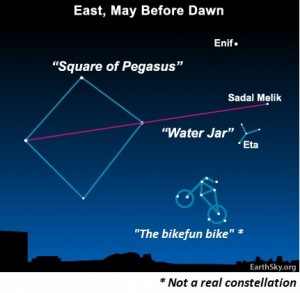 Start: Friday, May 8, 2015 9:30 am
Finish: Sunday, May 10, 2015 9:30 am
Meet at: Southern Cross Station
Warning - you are viewing a past event
This ride is full but let me know if you want to be placed on the standby list. Or we might run it again in December.
>>
A two night self contained regional tour to try to get a glimpse of the Eta Aquarids meteor shower. If we don't see it there's still bikes, campfires (weather permitting), good food and good company. LIMIT of 10 PEOPLE!
About 90k over three days mostly on quiet roads:  Ballarat -> Creswick -> Clydesdale -> Castlemaine
Route plan available at: www.bikely.com/maps/bike-path/BikeFun-MeteorRide
contact grbrowne@gmail.com if you are interested

Add to your calendar
Want people to put this event in their calendar?
Click here
for embed code for your website.
If you listed this event, we sent you an email with a link that allows you to update it.
If you want to edit this event but you don't have that email handy,
click here
for a replacement email.
2146