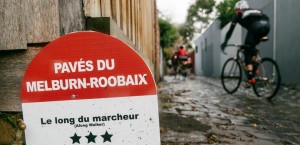 Start: Sunday, June 26, 2016 9:30 am
Finish: 5:00 pm
Meet at: Secret! Register to find out
Warning - you are viewing a past event
It's a scavenger hunt on wheels of sorts, themed on the greatest single day race of them all – Paris Roubaix.
Pronounced ROO-BAY, the Melburn version arms riders with a map, musette and a pen with a challenge of finding cobbled sectors from the East to West, discovering a part of the city rarely seen.  Unplanned stops for coffee, stopping to take photos and getting lost are all part of the journey.
There are no prizes for athletic merit as THIS IS NOT A RACE.  Prizes for creative expression and pure luck are up for grabs.
Melburn Roobaix is the one day of the year to assemble your friends for an all-day adventure from the south to the north, with some east and west covered along the way. With a musette containing your map, pen and list of tasks it's up to you how you make your way from one to the other.

Add to your calendar
Want people to put this event in their calendar?
Click here
for embed code for your website.
If you listed this event, we sent you an email with a link that allows you to update it.
If you want to edit this event but you don't have that email handy,
click here
for a replacement email.
2169