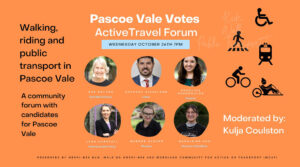 Start: Wednesday, October 26, 2022 7:00 pm
Finish: 8:30 pm
Meet at: Zoom
Warning - you are viewing a past event
What do our local State election candidates plan to do for walking, riding and public transport in Coburg, Pascoe Vale and West Brunswick?
Submit questions you want addressed at the link below and register for this free online forum.
When: Wednesday 26th October 7pm
Where: On Zoom in your Lounge Room
What do they plan to do to make it easier and safer for you, and your family, to walk, ride or use public transport? How easy is it for you and your family to get around on foot, by bike or on PT? What do you need to make it better, more accessible and safer? How can we use active transport to tackle our rising transport emissions?
Submit your questions for candidates here: https://forms.gle/wvjvy2qaEtR2Czgv6
Register to attend HERE

Add to your calendar
Want people to put this event in their calendar?
Click here
for embed code for your website.
If you listed this event, we sent you an email with a link that allows you to update it.
If you want to edit this event but you don't have that email handy,
click here
for a replacement email.
6596