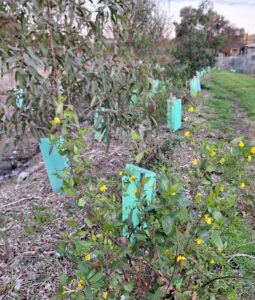 Start: Sunday, October 15, 2023 9:55 am
Finish: 11:30 am
Meet at: Merlynston Station
Warning - you are viewing a past event
Thanks to the volunteers at the Upfield Urban Forest we have a great family ride coming up this Sunday exploring the work they have done along the Upfield corridor. Ever wondered who does all those cute plantings, or who the teams of people picking up rubbish and weeding you see are and what is the impact of projects like skyrail? Now is your chance to find out!
Meet at Merlynston Station Sunday October 15th just before 10am ready for a 10 o'clock departure. Bring water, sunscreen and your bikes!
We'll be riding southwards and finishing at Jewell Station after 11:30.
If you, or the kids, don't want to ride both ways then catch the train with your bikes to Merlynston for the start, or home from Jewell at the finish.

Add to your calendar
Want people to put this event in their calendar?
Click here
for embed code for your website.
If you listed this event, we sent you an email with a link that allows you to update it.
If you want to edit this event but you don't have that email handy,
click here
for a replacement email.
6759