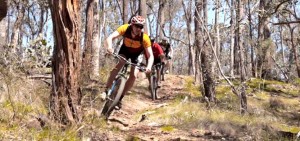 Start: Saturday, April 4, 2015 7:45 am
Finish: Sunday, April 5, 2015 5:00 pm
Meet at: Southern Cross Station outside V-Line box office, near cnr Collins St and Spencer St
Warning - you are viewing a past event
Who would like to join me on a  Goldfields Track Ballarat to Castlemaine Ride? This will be a 2 day ride  staying one night in Daylesford. It's a little more downhill so a bit easier on us.
Take 8:08 am train to Ballarat
>>>Ballarat to Daylesford Map Gps friendly<<<
>>>Click here for Daylesford Castlemaine map<<<
Options are :
Ballarat to Daylesford return Ballarat or
Ballarat Daylesford Castlemaine.
There is plenty of Accommodation in Daylesford
Accommodation: 2 Dukes Daylesford Hotel, 2 Duke Street, Daylesford, Victoria 3460 (I have Reserved 2 double rooms here.) These have double beds, one room for myself, and another for a couple or single. Cost is $99 per room just pay when we arrive.
Trains Ballarat and Castlemaine
We may need car support on this
Distances:
Day 1- Ballarat to Daylesford 70km
Day 2- Daylesford to  Castlemaine 61km
Trains run Regularly approx every 1 hour from Castlemaine.
Train Tickets $19.60 one way your Myki ticket will get you to ballarat
Suit: Intermediate /Advanced Riders
Surface :Unsealed Hilly
Suitable bike : MTB Cyclocross
Road Route looking into it
Bring : Water, Pump,Tool kit ,tubes ,camera, food for the day,Myki,first aid kit, etc.
Cancellation will be if the weather is unsuitable or V-Line stuffs around with trains:)
CONTACT MICK Via Email bykfri@gmail.com

Add to your calendar
Want people to put this event in their calendar?
Click here
for embed code for your website.
If you listed this event, we sent you an email with a link that allows you to update it.
If you want to edit this event but you don't have that email handy,
click here
for a replacement email.
2234