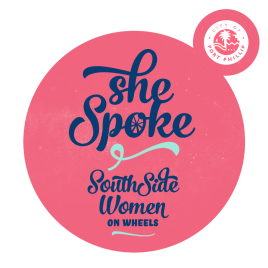 Start: Sunday, April 12, 2015 10:00 am
Finish: 2:00 pm
Meet at: The Great Provider, 42A Marine Parade, Saint Kilda VIC 3182, Australia
Warning - you are viewing a past event
Start where SheSpoke* left off. The SheSpoke Southside Hub runs from 10am to 2pm and welcomes you to relax and unwind in, with a free champagne breakfast throughout. Everyone is welcome.
It features
Ride and event organisers are welcome to start, end and join in their planned activities at this hub. Just get in touch with Jess so we can cater for numbers.
This is a free event by the City of Port Phillip and is staged at the SheSpoke Southside Hub at The Great Provider. Held in a venue that makes use of our magnificent beachside views and bike trails.
The City of Port Phillip is proud to support The Women's Ride and its collaborative partners.
* SheSpoke 2014 was a three month festival produced by the City of Port Phillip dedicated to promoting women's participation in bike riding. The series of rides, workshops and special events were designed to celebrate, inspire, entertain and empower women of all life stages. She Spoke is about having fun, making connections with other women, learning new skills and trying something you may not have tried before (or for a long time).

Add to your calendar
Want people to put this event in their calendar?
Click here
for embed code for your website.
If you listed this event, we sent you an email with a link that allows you to update it.
If you want to edit this event but you don't have that email handy,
click here
for a replacement email.
2248