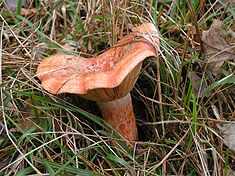 Start: Saturday, April 25, 2015 9:00 am
Finish: 5:45 pm
Meet at: Southern Cross Railway Station
Warning - you are viewing a past event
There's a chill in the air and the pine forests of Mt Macedon  (and craft beer) are calling.
After the rains the forests come alive with delicious saffron milkcap mushrooms.  A ride in the forest and a hot lunch of fried mushrooms and crusty bread is just the thing for autumn.
To join us:
Bring goodies for a lunch (garlic, butter, oil, crusty bread) and a cup and plate to eat from.
Meet at Southern Cross Railway Station at 9:00 ready to catch the:
9:36am dep train Southern Cross arriving at Gisbourne 10:29am
Ride around 30km (of sometimes hilly and unsealed roads) from Gisbourne to Woodend via the Macedon Regional Park.
A beer at the http://www.holgatebrewhouse.com/ before catching the train back to Melbourne.
4:41pm dep Woodend arrive Southern Cross 5:43pm

Add to your calendar
Want people to put this event in their calendar?
Click here
for embed code for your website.
If you listed this event, we sent you an email with a link that allows you to update it.
If you want to edit this event but you don't have that email handy,
click here
for a replacement email.
2256