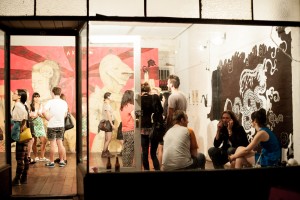 Start: Saturday, July 4, 2015 1:00 pm
Finish: 3:00 pm
Meet at: Ruffian Gallery - 361 Barkly Street, West Footscray.
Warning - you are viewing a past event
Foot It is a cycling art tour in West Footscray. Meet the innovative creatives, superbly talented makers and the Avant-garde artists.
We will begin our ride at captivating Ruffian Gallery, an artist run gallery focused on photography, see the Ruffian crew demonstrate a live paste-up of a #dysturb image, enter the curious Melbourne Museum of Printing; an historical printing oasis, visit Maze & Vale; creating hand printed sustainable textiles and workshops, then an industrial scenic ride to Post Industrial Design; a mecca of unique gifts and home wares then finishing off with a coffee and gluten free sweet at POD café. *
*itinerary and consumables subject to change
Bookings can be made at:
http://colourboxstudio.com/event/foot-it-in-west-footscray-by-bike-2/

Add to your calendar
Want people to put this event in their calendar?
Click here
for embed code for your website.
If you listed this event, we sent you an email with a link that allows you to update it.
If you want to edit this event but you don't have that email handy,
click here
for a replacement email.
2314