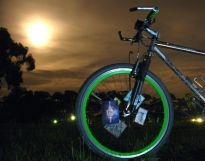 Start: Friday, July 31, 2015 7:30 pm
Finish: 11:00 pm
Meet at: Glen Waverley Railway Station
Warning - you are viewing a past event
Full Moon Ride – Friday 31st July
Been missing your BFM rides during winter?
Get away from the inner city and enjoy some eminently sensible eastern suburban air as we travel the under-utilised Glen Waverley trail.
From Flinders St platform 3&4, catch the last carriage of the 6:39 train to Glen Waverley arriving 7:23. (If you arrive early, there are a number of shops, supermarkets etc to get provisions for the ride, but we must leave at 7:30pm)
As always, there is a 1/2 way picnic spot, so bring drinks, nibblies & experiences to share.
http://www.bikely.com/maps/bike-path/Glen-Waverly-to-Alphington-FMR
Organizer: X-Rider

Add to your calendar
Want people to put this event in their calendar?
Click here
for embed code for your website.
If you listed this event, we sent you an email with a link that allows you to update it.
If you want to edit this event but you don't have that email handy,
click here
for a replacement email.
2322