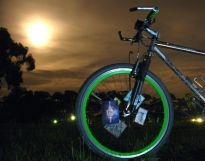 Start: Friday, April 22, 2016 7:15 pm
Finish: 11:00 pm
Meet at: Craigieburn Railway Station
Warning - you are viewing a past event
Full moon is on a Friday this month so we will ride from Craigieburn to the City, about 45km via the Merri Creek Path.
Catch the 6:27PM Craigieburn train from Flinders Street (probably platform 5), our end of the train will be towards Elizabeth St.
From Craigieburn Railway Station head north to pick up freeway path towards the City, then Ring Road to Merri Creek trail.  Last time we tried this a small group got frozen, but it's a nice ride in reasonable weather.
There won't be anywhere to buy food & drink, so stock up during the day and we'll have a picnic along the way.

Add to your calendar
Want people to put this event in their calendar?
Click here
for embed code for your website.
If you listed this event, we sent you an email with a link that allows you to update it.
If you want to edit this event but you don't have that email handy,
click here
for a replacement email.
2513