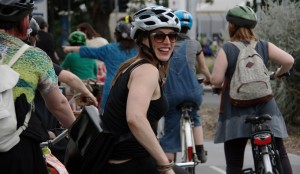 Start: Sunday, April 10, 2016 10:00 am
Finish: 12:30 pm
Meet at: Princes Hill Primary School
Warning - you are viewing a past event
So you know how to ride a bike, but you never actually ride? If you're  woman with basic bike riding skills but not the confidence to use them, then Pushy Women training is for you!
We're thrilled to be able to present the first of our Pushy Women Training series for the City of Yarra on Sunday April 10th! Pushy Women is a sociable and friendly training program for women who know how to ride but don't have the confidence to use their bikes regularly.
In this two and a half hour session you'll get to know a group of fabulous local women just like yourself, all while honing the skills you need to safely get around by bike.
We'll start off in a traffic-free environment and practise all the basic bike skills you need to safely move onto the roads. There'll be plenty of time to ask questions in a supportive and friendly group. Moving on to some quiet local roads we'll learn how to use the bike lane confidently, navigate roundabouts, make hook turns and safely get across intersections.
We'll so be discussing what to do when you get a flat tyre, route planning around Fitzroy and beyond, road rules and there'll be plenty of time to answer questions as they come up, whether they're about bicycles, accessories, riding at night or finding friends to ride with.
The Pushy Women Yarra training session is on Sunday April 10th at 10:00am in North Carlton. Suitable for women who have a bicycle and are able to ride a bike but wish to improve their confidence. All participants must be over 12 years old and any under 16 MUST be accompanied by a guardian who is also enrolled on the course. The course will be conducted in a traffic-free environment and on roads.
You can register here: http://www.thesqueakywheel.com.au/events/pushy-women-yarra-fitzroy
Participants must bring their own bicycle, helmet and water bottle and registration for the Pushy Women Yarra training session is $10

Add to your calendar
Want people to put this event in their calendar?
Click here
for embed code for your website.
If you listed this event, we sent you an email with a link that allows you to update it.
If you want to edit this event but you don't have that email handy,
click here
for a replacement email.
2514