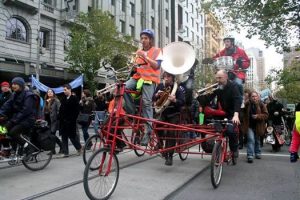 Start: Friday, June 28, 2019 6:00 pm
Finish: 8:00 pm
Meet at: State Library
Warning - you are viewing a past event
Critical mass is a fun ride for all. Come and enyoy the roads of Melbourne.
A basic concept below?
https://en.m.wikipedia.org/wiki/Critical_mass_(sociodynamics)
There will be a warm and friendly pub at the end of the rainbow.
The bicycle is a vehicle for change so let's ride them!

Add to your calendar
Want people to put this event in their calendar?
Click here
for embed code for your website.
If you listed this event, we sent you an email with a link that allows you to update it.
If you want to edit this event but you don't have that email handy,
click here
for a replacement email.
3766