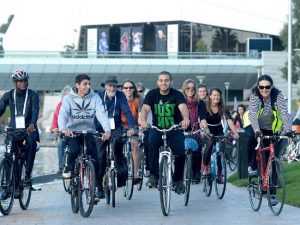 Start: Monday, June 3, 2019 11:00 am
Finish: 3:00 pm
Meet at: Southern Cross Railway station (Spencer St)
Warning - you are viewing a past event
Monday, June 3rd is World Bicycle Day.
https://www.un.org/en/events/bicycleday/
Melbourne Freestyle Cyclists will celebrate the day with a ride around the Capital City Trail. The entire route is 29km but there are opportunities to hop off at various points along the way. This ride includes some very scenic locations around the City. There are also cafes and picnic spots for stops.
The ride commences out the front of Southern Cross station at 11.00am. Please RSVP so we can look out for you at the start.
Organiser: Kathy 0481 372 956

Add to your calendar
Want people to put this event in their calendar?
Click here
for embed code for your website.
If you listed this event, we sent you an email with a link that allows you to update it.
If you want to edit this event but you don't have that email handy,
click here
for a replacement email.
3908