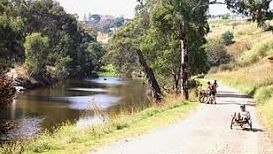 Start: Saturday, June 15, 2019 9:30 am
Finish: 2:30 pm
Meet at: Footscray Railway Station - 50 Irving St Footscray
Warning - you are viewing a past event
Social Ride organised by Melbourne Bicycle Touring Club
This ride is open to financial MBTC members, and Meetup visitors who have not yet completed three introductory rides.
This ride starts and stops at the gateway to Melbourne's west, Footscray station.
The trains from the city to Footscray are running on the day but if you are training from further afield then you better check https://www.metrotrains.com.au/planned-works/ to ensure that rail works on your line are not an issue.
The highlights of this ride are the Maribyrnong River trail and the Kororoit Creek trail. There are many points along these trails where the scenery is breathtaking.
At the middle of our ride, we'll be in the St Albans foodie strip where we can have a bowl of soup or morning coffee Vietnam style.
Once back, why not do some shopping at Footscray Market or, if you're lucky, get a kg of brie cheese for $7.50 at Cheaper Buy Miles.
The paths are generally good with some softer and even rocky patches. It can be done on a road bike if adventurous, however a touring bike is the better way to go.
Leaving the ride at St Albans station or Sunshine station will shorten it to 25 km or 36 km respectively.
We will maintain a reasonable pace of approx. 15 – 20 kph and regroup as needed so no one is left behind. There are a couple of steep ascents in the first half but they are really short. You'll probably see me walking them.
Check out the ride at:
https://ridewithgps.com/routes/30238189
Even better, install the ride with GPS app on your mobile phone if you haven't already done so.
Check your meetup app for any changes 2 hours before the ride as the ride may be cancelled in the event of extreme weather.
On the day, if you cannot make it to the ride please change your RSVP to 'NO' within a reasonable time.
Our club policy is that visitors may participate on three rides before making the decision to join our club for an annual fee of $25.
You can join Melbourne Bicycle Touring Club Inc. at https://www.mbtc.org.au/membership/
Benefits include other rides not listed on Meetup, special event meetings, social events, RWGPS club subscription, etc.

Add to your calendar
Want people to put this event in their calendar?
Click here
for embed code for your website.
If you listed this event, we sent you an email with a link that allows you to update it.
If you want to edit this event but you don't have that email handy,
click here
for a replacement email.
3952