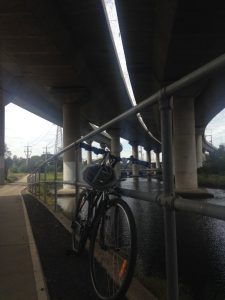 Start: Sunday, July 21, 2019 10:00 am
Finish: 2:00 pm
Meet at: Federation Square
Warning - you are viewing a past event
30 km easy social ride – mainly bike paths: Circuit: Federation Square – Royal Park – Merri Creek – Yarra River at South Yarra (clockwise).
Cafe stop for morning tea – Park St Cafe, Brunswick (beside Velo Cycles). Ride end and lunch (optional) at Kanteen Cafe, South Yarra.
There are plenty of interesting and attractive spots along the route, including Dights Falls and the Collingwood Children's Farm, but at this cooler time of year stops will be brief.
If you are coming by train, check for disruptions on the PTV website.
"This ride is open to financial MBTC members, and Meetup visitors who have not yet completed three introductory rides."
SUGGESTED ITEMS TO BRING
Warm / rain gear, etc.
Water, snacks.
RIDE DESCRIPTION
From Fed Square, we'll cross the Yarra to Southbank, and go west to Jeff's Shed, crossing back over the river to Docklands.
Going north, we'll see the old and new of the inner west. Across Royal Park, then along the route of the Inner Circle rail line.
After the all-important morning tea (probably at the Park St Cafe, near Nicholson St), we'll follow Merri Creek, then back to the Yarra.
We will aim for the ride end to be at Kanteen Cafe, which overlooks the Yarra in South Yarra. Have lunch here, and/or ride the 3 km back to Fed Square/Flinders St.
THE FINE PRINT
Check here in Meetup for any changes two hours before the aride as the ride may be cancelled in the event of extreme weather or other unforeseen circumstances.
If you cannot make it to the ride please change your RSVP to 'NO' within a reasonable time.
Our club policy is that visitors may participate on three rides before making the decision to join our club for an annual fee of $25.
You can join Melbourne Bicycle Touring Club Inc. at http://www.mbtc.org.au/membership/
Benefits include other rides not listed on Meetup, special event meetings, social events, RWGPS club subscription, etc.
When I RSVP for this event/activity I acknowledge that the activity of bicycle riding can be dangerous and that I may suffer loss or injury or death and I agree that in consideration of my participation in any event conducted by the MBTC that I will absolve from liability the MBTC, its officers, and any event organiser from all claims, demands, or suits whether for personal injury or property loss suffered whether by negligence or breach of contract or otherwise, save for any right I may have pursuant to the Trade Practices Act 1977 (Commonwealth) as amended. I agree that photos taken of me during MBTC rides or social events may be used for publicity purposes. Ride route and times may vary due to circumstances on the day.

Add to your calendar
Want people to put this event in their calendar?
Click here
for embed code for your website.
If you listed this event, we sent you an email with a link that allows you to update it.
If you want to edit this event but you don't have that email handy,
click here
for a replacement email.
4130