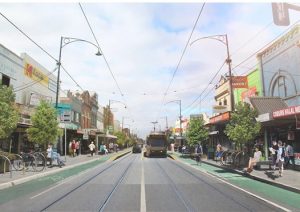 Start: Tuesday, July 9, 2019 6:00 pm
Finish: 8:30 pm
Meet at: 4/246 Bourke Street in Melbourne
Warning - you are viewing a past event
Want to help make Sydney Road a street for everybody?
Revitalise Sydney Road and Bicycle Network could use your help! VicRoads has launched a consultation on Sydney Road, and we want to make sure that the community is at the heart of any change.
Here's how you can get involved:
We'll be calling members of the Bicycle Network in the Brunswick area to let them know about the survey, and we could use some volunteers to spread the word.
We'll be running phone banking events on Tuesdays and Thursdays at Bicycle Network's headquarters – 4/246 Bourke Street in Melbourne.
Tuesday  – July 2nd
Thursday – July 4th
Tuesday  – July 9th
Thursday – July 11th
We start at 6pm and finish at 8:30.
You'll be provided with everything you need and guided through how to make calls, as well as some refreshments.
If you'd rather meet with people face to face, come along to our street stall. We'll be running them over the next two Saturdays out front of Barkly Square.
Saturday – July 6th
Saturday – July 13th
or on facebook here:

Add to your calendar
Want people to put this event in their calendar?
Click here
for embed code for your website.
If you listed this event, we sent you an email with a link that allows you to update it.
If you want to edit this event but you don't have that email handy,
click here
for a replacement email.
4050