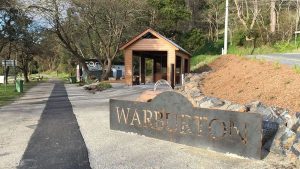 Start: Saturday, July 13, 2019 8:50 am
Finish: 7:00 pm
Meet at: Lilydale Railway Station
Warning - you are viewing a past event
Warburton Rail Trail
This ride is open to financial MBTC members, and Meetup visitors who have not yet completed three introductory rides.
If trains are not running I will change the date for this ride
Come and join me in riding the Iconic Warburton Rail Trail. This is a Medium difficulty and approximately 80Km return to Lilydale Rail Station or if you want you can do half the ride and arrange for someone to pick you up at Warburton which would be an Easy ride. This ride would be suitable for all types of bikes but it is gravel all the way for those on Road Bikes. We will decide on lunch closer to the date.
The must dos for this ride:- Enjoy the ever changing scenery but especially those mountain views, riding beside the Yarra River where you will be smelling fresh air and hearing the sound of river running beside you, visiting some lovely towns and their old train stations. If time permits we will explore the Park at Warburton and visit the Swing Bridge. Hopefully the one thing we will not have to do is jump into the river to save a screaming kid on a floating tyre! Believe me this has happened.
We will be meeting at Lilydale Railway Station at 8.50am and riding the trail by 9am. This means if your catching trains you will need to be on the 7.39am Train from Southern Cross. We will need to keep a good steady pace to make it back to Lilydale in daylight hours.
https://ridewithgps.com/routes/27889875?privacy_code=QKzQ0yIECtUF8xFv
ESSENTIAL ITEMS
Functioning headlight & tail light
Spare tube and a puncture kit
MYKI card, ATM card/cash, basic tools, rain gear, snacks, etc
WATER
It's your responsibility to check the temperature and distance for the day and carry an appropriate amount of water. When riding outside suburbia remember that carrying too much water is better than not enough as the distances between water availability may vary greatly from the planned route due to road closures or other unforeseen circumstances.
Check your app for any changes two hours before a day ride, or two days before a multi day ride as the ride may be cancelled in the event of extreme weather or other unforeseen circumstances.
If you cannot make it to the ride please change your RSVP to 'NO' within a reasonable time.
Our club policy is that visitors may participate on three rides before making the decision to join our club for an annual fee of $25.
You can join Melbourne Bicycle Touring Club Inc. at http://www.mbtc.org.au/membership/
Benefits include other rides not listed on Meetup, special event meetings, social events, RWGPS club subscription, etc.
When I RSVP for this event/activity I acknowledge that the activity of bicycle riding can be dangerous and that I may suffer loss or injury or death and I agree that in consideration of my participation in any event conducted by the MBTC that I will absolve from liability the MBTC, its officers, and any event organiser from all claims, demands, or suits whether for personal injury or property loss suffered whether by negligence or breach of contract or otherwise, save for any right I may have pursuant to the Trade Practices Act 1977 (Commonwealth) as amended. I agree that photos taken of me during MBTC rides or social events may be used for publicity purposes."

Add to your calendar
Want people to put this event in their calendar?
Click here
for embed code for your website.
If you listed this event, we sent you an email with a link that allows you to update it.
If you want to edit this event but you don't have that email handy,
click here
for a replacement email.
4128