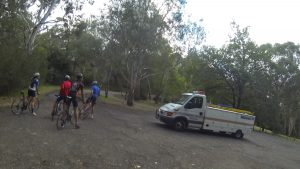 Start: Saturday, May 21, 2016 7:00 am
Finish: 5:00 pm
Meet at: southern cross Station
Warning - you are viewing a past event
MEET @ : 7 am Southern cross Station , Take 7:19 am Bendigo train @ 9:19am Get off at Station , By Car MEET @ :Bendigo station 9:25am
About the RIDE
One way Ride only to Heathcote 50km one way need some one to pick you up
2 days Overnight Bendigo to Heathcote ride back to Bendigo Sunday 50km both days
Map :https://ridewithgps.com/routes/13225375
Saturday only 100km return Bendigo Heathcote for Lunch back to Bendigo this will be a faster ride as we will have limited day light so bring bike lights . The distance will be Governed by the time we arrive in Bendigo we would aim to be back by in Bendigo by 4:20 for the 4;28 train or 5:20 for 5:35 train back to Melbourne
Distance : 100km 1 or 2 days
Suit: Hybrid CX
Surface: Trail is gravel.
Cancellation: Pouring rain, thunderstorms no trains etc
what to Bring: Tubes, Tools, Pump, Lock, Water, Money Myki, etc please make sure your bike is in good working order You ride at your own risk Bring something to eat
Trail surface is a mix of asphalt sections (townships) and rolled fine to course gravel in the other areas. For cycling, the trail surface overall is currently most suitable for MTB and hybrid bikes – although flat bar racers with sufficiently wide tyres would be fine.
In 2015, the extension from Axedale to Heathcote was opened, resulting in a good quality path of 50 km from Bendigo to Heathcote.
We travel through box-ironbark and yellow gum woodland, along with farmland.
Contact number 0410309264

Add to your calendar
Want people to put this event in their calendar?
Click here
for embed code for your website.
If you listed this event, we sent you an email with a link that allows you to update it.
If you want to edit this event but you don't have that email handy,
click here
for a replacement email.
2573