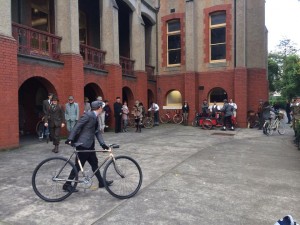 Start: Sunday, May 15, 2016 10:00 am
Finish: 12:00 pm
Meet at: Percy Grainger Museum, Melbourne University
Warning - you are viewing a past event
Bicycle enthusiast with some tweed in your wardrobe? If so join in the fun at the Melbourne Tweed Ride, starting this year for the first time at the Grainger Museum.
Bring your tweed bicycle helmet.
The Melbourne Tweed Ride is a metropolitan bicycle ride with a bit of style. The participants take to the streets in their well-pressed best and cycle through the city's iconic landmarks. Refreshments will be served to participants at the Museum before departure.
Add to your calendar
Want people to put this event in their calendar?
Click here
for embed code for your website.
If you listed this event, we sent you an email with a link that allows you to update it.
If you want to edit this event but you don't have that email handy,
click here
for a replacement email.
2570